Made from one of the world's oldest living trees, the first Aspen Rustic Bristlecone Table was made from a 2,200-year-old tree that lived at the edge of treeline until it was struck by lightning, causing its death. Although it died many years ago, it stayed standing for a great length of time while being naturally dried and weathered, creating a beautiful natural patina that is second to none. 
The oldest living tree in the world at the moment just happens to be a Bristlecone Pine here in the United States. We are very careful to use only logs that are properly harvested with proper permits and accredited personnel to avoid affecting the future survival of such an ancient species.
We rarely come across these logs and the process of harvesting is so difficult that we don't usually have the ability to make this style table. In the very rare occasion we can find this beautiful wood, we will contact the individuals that have expressed interest on a first come, first served basis.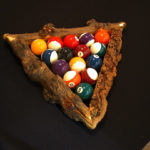 Let us help you design that perfect rustic pool table that fits your "mountain elegant" lifestyle.
You can always call us at any time during the process. We welcome the opportunity to help you achieve the perfect table!