Inspired by the old-world history and uniqueness of the Florida Keys, the Aspen Rustic Island Table features blue paua shell aiming dots, teak coconut-palm top-rail and Jamacan dogwood legs among its "key features". Many of the wood choices were a direct result of an unfortunate event. In 2004, South Florida experienced two devastating hurricanes, among them was the very large and slow moving Hurricane Frances. This storm toppled many of the islands' older growth trees and native palm trees. 
The cleanup after such an event could be considered massive in many ways as locals did their best to preserve such resources as salvaged building materials, and of course the lumber milled from these fallen trees. Aspen Rustic was able to purchase some of the finest examples of local Keysian woods such as the Jamaican Dogwood used in this table. Others include Tamarin, Woman's Tung, Cuban Mahogany (one of our favorites), and even some native coral that was washed ashore during the storm.
Just like our efforts to use vintage reclaimed barn wood from old structures found across America, the use of native trees that had lived a good life while basking in the South Florida sun just seemed like the right thing to do. We hope you'll see why we love this amazing collection of tropical hardwoods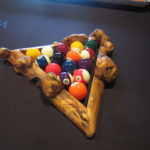 Let us help you design that perfect rustic pool table that fits your "mountain elegant" lifestyle.
You can always call us at any time during the process. We welcome the opportunity to help you achieve the perfect table!