The Leadville by Aspen Rustic Inc. is steadily gaining the attention from billiard players around the country that enjoy playing at a table that fits their refined rustic lifestyle, with a nod to the classic historical design elements.
The Leadville pool table is one of our favorites. Its design came from our appreciations of the local ghost town called Ashcroft, along with the architecture of other antique billiard tables. We imagined that a 19th century miner or cattle baron could have commissioned himself a well-appointed table such as this one. 
We have built this style table several times but never the same way twice. Each table has unlimited wood choices, felt colors, or panel variations that are possible. For the hunter, we might choose a hair-on elk hide panel, for the fly-fisherman we might suggest a birch bark panel or basket weave pattern to resemble his fishing creel. Even Navajo rug cuttings can be used on the side panels to make a dramatic statement.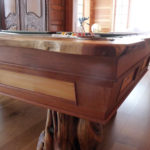 Let us help you design that perfect rustic pool table that fits your "mountain elegant" lifestyle.
You can always call us at any time during the process. We welcome the opportunity to help you achieve the perfect table!
Complemented by a ruggedly handsome posture, this stately pool table by Aspen Rustic is sure to capture attention.