Our lodgepole Burl pool tables are made using logs from Colorado and Wyoming. A very unique table handcrafted here in the Roaring Fork Valley near Aspen, this billiard table is sure to capture attention in any rustic retreat.
Each and every angle offers a different view of this wood's unique character. Lodgepole burl logs are harvested from the high mountains of Wyoming and Colorado. Each log is carefully selected, sanded and finished revealing great character and beauty. It's sure to make any billiard room an amazing spot to gather. As with any billiard table of this caliber, quality of play depends on a table being solid, sturdy and true to the test of time. Aspen Rustic takes the extra steps necessary to do it right each time, every time.
It goes without saying that each log is unique, each burl is unique and the artistic interpretation of our craftsmen is very unique. There will be no two alike, ever!  With the help of our design studio staff, together we can create a Aspen Rustic Billiard Table with just the right character and texture for your mountain or western lodge.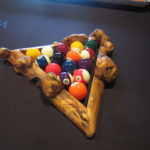 Let us help you design that perfect rustic pool table that fits your "mountain elegant" lifestyle.
You can always call us at any time during the process. We welcome the opportunity to help you achieve the perfect table!