Originally designed to fit within a Southwestern guest ranch game room, our "Sante Fe" billiard table could easily adapt to fit other interior styles. 
We've chosen a name for this table, Santa Fe, in part because of the historic city's importance to Western America and the settlers, frontiersmen, and indigenous people who settled in this rugged and beautiful landscape. In truth, we also imagined a table design that follows architectural cues from century old railroad trestles that would span gulches and rivers throughout the Rocky Mountains along the Santa Fe railroad.
Other material options consist of different woods, and panel elements that match this well appointed table to your room decor. We are able to truly make this table a perfect compliment to your home and personal lifestyle! Please enquire about the many beautiful options for this table at info@aspenrustic.com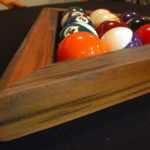 Let us help you design that perfect rustic pool table that fits your "mountain elegant" lifestyle.
You can always call us at any time during the process. We welcome the opportunity to help you achieve the perfect table!