Owen Construction contracted Kirk to design and build all of our furniture and cabinetry for a custom house located in Telluride, Colorado.  Our company was searching for an individual that was creative and meticulous in detail. Kirk went above and beyond our expectations.
    The project Kirk worked on was "Iron Mountain Lodge", a dramatic and rustic estate delivering a unique blend of old and new.  The project was designed to emphasize the Telluride mining era of days gone by.  Kirk designed furniture and cabinetry for each themed room ranging from a seductive Victorian parlor to a Miner's bunkhouse.  Each and every piece of furniture Kirk created for us was a work of art.  The detail and design was absolutely incredible.
    Kirk is very easy to work with and very responsible.  Owen Construction will certainly contract Kirk again for future projects.  I strongly recommend Kirk for his design concepts and attention to detail.
Sincerely,
Suzette Owen
Owen Construction – Sales and Marketing
Telluride CO
As Suzette mentions, Aspen Rustic Inc. was hired to build over 50 pieces of furniture and home accessories for this amazing 12,000 square foot lodge in Telluride Mountain Village. Follow the links below to get a glimpse into this beautiful project, or to see the HGTV featuring the spectacular finishes.
Dear Kirk,
    We write this letter to express our thanks for a job well done.  The furniture and built-ins which, as you know, are the highlights of our project, are a delight to enjoy every day.  Your design, meticulous construction, and attention to detail, are at a level beyond any I have experienced in this business in twenty five years designing and building homes in Sun Valley, ID.  You were on time with each piece and on budget always.  Lynn and I thank you and hope to continue to do further projects.  Your friendship is our gain.
Best,
Sid
Aspen, CO
Sid and Lynn were very special clients, offering me the opportunity to build several pieces of rustic furniture and custom Adirondack frames for their collection of original artwork. My family still enjoys visiting them and like several clients from our past, they have also become friends.
Hello Kirk,
    We were so happy to be the successful bidder in the Silent Auction @ the Reno SCI Convention.  When my husband and I saw your pool table, we knew it would fit great in our home.  We were impressed with the craftsmanship and the attention paid to each detail.  It is obvious you enjoy what you do.  We wanted to thank you for being so helpful at the convention.  You answered all of our questions as to when and how the table would arrive.
     We liked the way you handled yourself at our home and your concern for our property.  You went right to work constructing the table and you were very accurate in the set up.
     And thank you for the follow up telephone calls to make sure we are happy with everything and for letting us know when you will be in California if we need anything.  You stand by your work and it's easy to see why.
Sincerely,
Michael & Dee
Woodside, CA
You'll find a couple photos (see below) of their pool table in its location within our image gallery. Their billiard room was well appointed with comfortable fabrics, lush house plants, and so the table naturally felt like an extension of their relaxed outdoors lifestyle.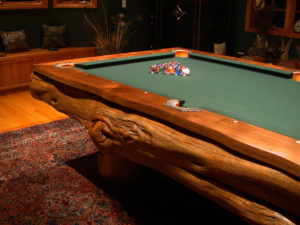 To all who may consider purchasing a pool table from Kirk Modglin at Aspen Rustic:
     This endeavor (to purchase a spectacular pool table made of wood) has been very enjoyable from start to finish.  It turned out this way because I was wise enough to choose to work with Kirk at Aspen Rustic.  If I could redo anything about the experience, I would not.
     After researching numerous companies on the internet, it quickly became apparent to me that Aspen Rustic builds superior tables.  Their product screamed quality.  The other companies  had 'so-so' pool tables.  This was not what I was looking for.  After scrolling through some of the options with Aspen Rustic, I was blown away by the Juniper table.  Wow, there was not much to decide after seeing that one (except the color of the felt, of course)!
     Kirk worked with me throughout the process of making this table.  He truly is passionate about his work and the product he produces.  I cannot emphasize this point enough.  When you have that trait behind your work, there is no question that the table is going to be spectacular.  And, it is!  I live in Georgia and could only see through a few pictures what the table might look like.   I would have to wait for the table to arrive from Colorado … hand-delivered and assembled by Kirk!  How is that for standing behind your product?!  Truly, I was amazed at the beauty of the table when it arrived … for several days even!  People still tell me how beautiful and solid it is.  I just say, "I know"  proud parent that I am.  If you don't believe me, ask Kirk to show you some of the pictues of the table in my home.
     This letter serves as a recommendation for Kirk Modglin and the people at Aspen Rustic.  I have a undescribable piece of art and a fabulous pool playing surface sitting in my home.  Never to be sold!  Kirk is dedicated, passionate, an artist.  If you have the slightest hesitation about purchasing a pool table through this professional reputable company, please call me.  I would love to talk with you.
(Thank you so much, Kirk.  I love it!)
Sincerely,
Paula Carroll
Hartwell, GA
A unique piece of game room furniture like this Juniper Billiard Table (see photo below) often times becomes a gathering spot for friends to unwind. I had the pleasure of building this table for Paula, and it soon became a conversation piece. We chose a unique set of legs, and specific Western Juniper logs to make every angle something to admire.