Our Leadville style table has been a popular design that collectors love to add all those custom touches to. We have acquired a limited quantity of Black Walnut barn timbers that were used in this style table.
It is rare to find Walnut barn timbers still standing in the Midwest. A barn can meet it's end all too quickly if not properly taken care of. We salvaged the material from a fallen barn only to find it was entirely built of American Black Walnut. A rare find from the lost days of central Americana. The beautifully rich patinas deep within the walnut give a warm and elegant wood tone that perfectly complements the game of billiards' rich heritage. The table pictured here was built using a Juniper top rail and black felt. It is a combination that was brought together by a local Interior Designer and our creative billiard design staff.
Panels, top rail material, leg styles, and other design elements can all be customized to make each table unique. If you have a specific request for material or detail, our design staff is ready to help.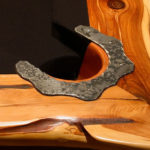 Let us help you design that perfect rustic pool table that fits your "mountain elegant" lifestyle.
You can always call us at any time during the process. We welcome the opportunity to help you achieve the perfect table!