Our classic Reclaimed Timber table style is now available in solid Walnut while our supply lasts.  
Update: We are currently out of this reclaimed Walnut in barn timbers but we can add you to a list to notify you when it becomes available.  It has taken years to locate just the right timbers in the upper Midwest for our rustic Walnut Timber billiard table.  This walnut is beautifully hand hewn and full of character dating back over 100 years. 
We craft these tables with care and attention to detail using the wood in its most natural form.  These barn timbers are big, sturdy, and heavy, ensuring solid playability.  We can outfit your custom Walnut Timber table with any top-rail wood, aiming dots, felt color, or pocket surround you choose.  If you like reclaimed walnut, we do stock smaller size lumber that will beautifully accent our Leadville, Durango, or other style of custom Aspen Rustic pool table.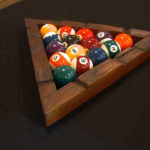 Let us help you design that perfect rustic pool table that fits your "mountain elegant" lifestyle.
You can always call us at any time during the process. We welcome the opportunity to help you achieve the perfect table!