Aspen Rustic has become a leader in finely crafted log and timber pool tables and game room accessories for the well appointed rustic home. Started years ago in Colorado, we have blended a casual lifestyle of the great outdoors with the comfortable elegance of refined rustic home decor.
Please consider us your trusted resource for quality, custom handcrafted home furnishings that will further enhance the spirit of your home.
Enhance the Spirit of your
Home
Cabin
Lodge
Barn
Rustic Retreat
We most often start crafting a rustic billiard table or game table after a client places an order, but we do occasionally have one or two in stock. Sometimes built for a photo shoot, sometimes to better illustrate a new concept design, and often times just because we just can't help ourselves once we find a collection of amazing wood or natural elements.
Click the photo to see what tables we have
We are proud to carry on a tradition of "American Made" quality in our Rustic Pool Tables and game room furniture. We are one of the very few left in the industry…There is a difference!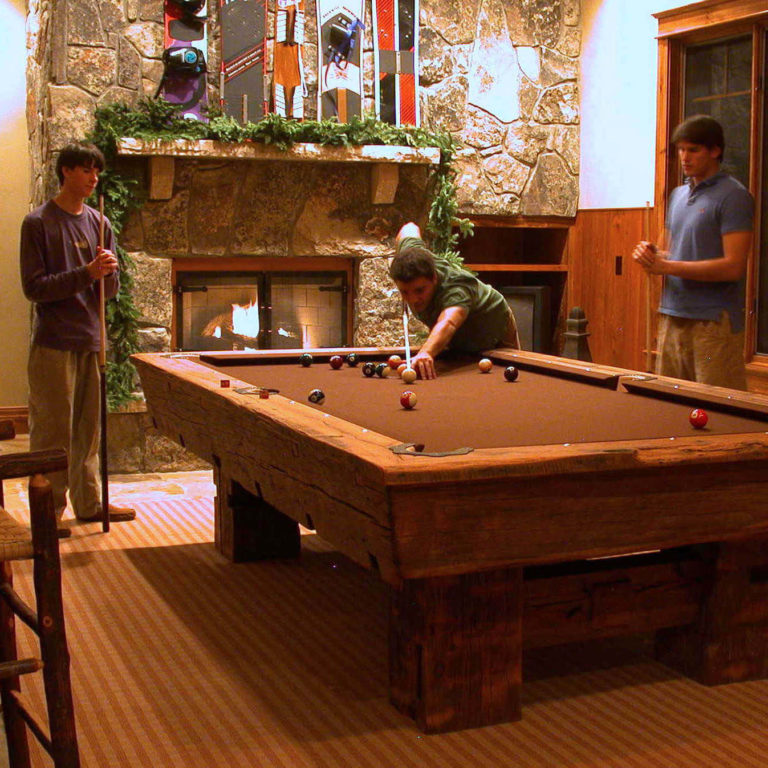 Contact us today to reserve your spot
Hand Delivered and Installed
Over the years we have worked very hard to focus on quality, customer satisfaction, and a level of support second to none.
Hand delivered and installed so that you know we are accountable throughout the ordering process.
It sometimes takes Planes, Trains, and…..Cargo Ships, to get your custom pool table hand delivered.
You can follow our trail as we design, build, and then install tables all around the United States and beyond. Our Blog is full of stories about our adventures.
If you live in Hawaii or Rhode Island, we are offering $800 off the price of a custom table for the first client from each of those two states to place an order.
Click the button below to learn more about some of the far flung locations where we've installed our rustic tables. We share info about the locale and the table itself.
Visit our informative and FREE guide for designing and setting up your unique entertainment space...(under construction)